Strength and capacity through communities
July 22, 2021
Gardening Day Part 2 @ St. Cuthbert's Anglican Church:
Our second visit at the Parish was a very productive one. We were privileged to have worked alongside four new volunteers to help with the watering and the tying of the thriving tomato plants. In addition, one of two planted apple trees have already started flowering on the east side of the Parish. OakvilleReady and Halton Foods will be returning next week for a third visit. We would like to remind everyone that St. Cuthbert is still seeking out volunteers. If you are interested in providing any assistance please visit their website.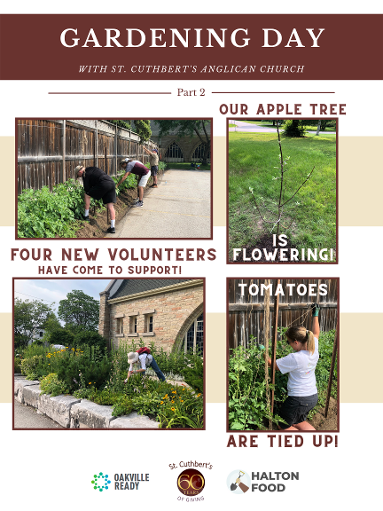 July 16, 2021
Depave Paradise Initiative @ INCA
Much gratitude to OakvilleReady Hub Church of the Incarnation (INCA) who begin their next phase of beautifying their space on Saturday, July 16. With the help of amazing INCA volunteers, Halton Environmental Network (HEN), Greening Sacred Spaces Halton-Peel and Green Communities Canada, over 20 volunteers, and a small BobCat braved the rain and removed two full dumpsters of asphalt around the front entrance of the church. The project is part of an initiative called "Depave Paradise".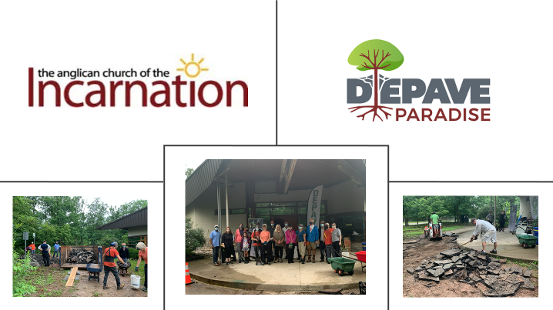 For more images of the event please view the gallery below.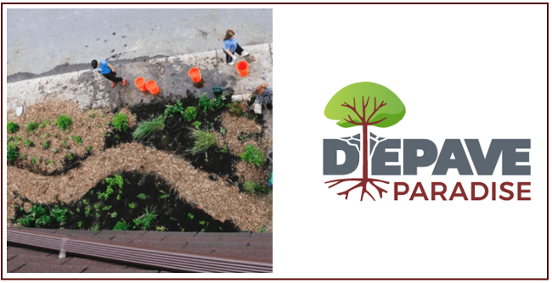 Depave Paradise addresses the proliferation of hard surfaces in urban environments through the act of ripping up unused pavement and replacing it with soil and vegetation. Removing pavement and replacing it with native plants, trees and shrubs provides many environmental benefits:
• Naturally cools urban areas.
• Restores the natural water cycle.
• Absorbs rainfall and reduces the risk of flooding.
• Creates habitat for native birds, pollinators, and animals.
• Asserts a calming influence through cooling and beautification.
• Builds awareness, skills and motivation to create more resilient neighbourhoods
For more Information on Depave Paradise
July 16, 2021
St. Cuthbert's Anglican Church Needs Volunteers!
To ensure that St. Cuthbert's community garden continues to healthily flourish, the church needs help tending the garden.
Tasks will include the following:
1. Watering the plants;
2. Stringing up the plants; and
3. Weeding the garden bed
If you can assist with any of these tasks, even if it's only occasionally, the St. Cuthbert Parish will be of great appreciation.
July 15, 2021
Gardening Day Part 1 @ St. Cuthbert's Anglican Church:
St. Cuthbert's have started a community garden with the planting of 100 tomato seedlings along the west side of their parish. So far, the seedlings have sprouted beautifully into young plants.
Today members of the OakvilleReady and Halton Foods team assisted St. Cuthbert's Anglican Church with the tending of their tomato garden as well as planting two additional Apple trees on the east side of the church. The team will be returning next week for additional support. Stay tuned for more updates. Check out the pictures from our involvement below!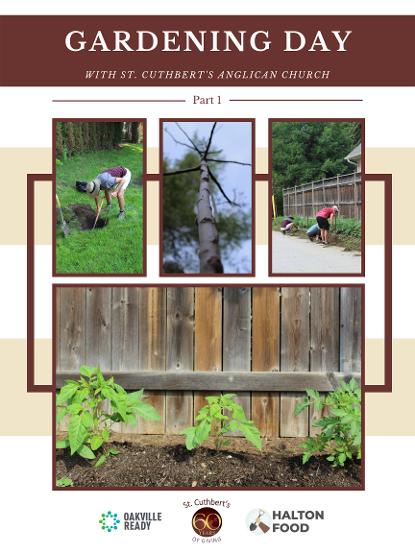 June 22, 2021
Warmer, Wetter, Windier, & Wilder Webinar Event Available on YouTube!
We would like to thank those of you who joined us for our webinar event on June 22, 2021. For those of you that missed it, you can watch the recording on our YouTube channel. Click below for the full presentation.
October 31, 2020
Let's Haunt Hunger:
Let's Haunt Hunger in support of Kerr Street Ministries! A contactless food drive that took place on October 31, 2021 from 9 am to 1 pm at Longo's on Cornwall Drive and in Town Square on Lakeshore Road. Thanks to our community, we collected 1200 pounds of food and $1600 cash to donate to those in need. Thanks to our sponsors and partners, Longo's, Town of Oakville, Oakville BIA and Halton Environmental Network. Check out pictures from the event below!

August 6-13, 2020
Contactless Food Drive for Kerr Street Mission:
The OakvilleReady team collaborated with program Hubs to plan and execute a socially distanced food drive in support of Kerr Street Mission. By the end of the event, over 300 items (approximately 867 lb) of food was donated by the community and delivered to Kerr Street Mission.

July 21, 2020
Helping the Seniors at Sir John Colborne Recreation Centre with Special a Delivery!
OakvilleReady team members delivered 20 container gardens to Sir John Colborne Recreation Centre to be distributed to Seniors. The planters have a variety of salad greens. They were created to increase food security & brighten the day of the individuals receiving them.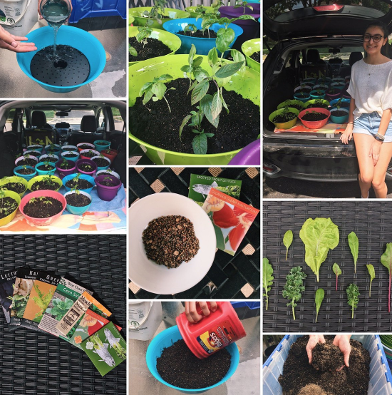 May 13, 2020

Get Access to The Library Online Content:
Get Access to the Library Online to learn more about how to get a virtual library card or use your existing car to access resources, online tools, audiobooks and more on the Oakville Public Library.
May 11, 2020

Square Foot Gardening:
This community call, features Halton Food and Oakville Public Library and learn the basics of small space gardening using the "Square Foot Gardening" method. Ideal for in-ground, container gardens for backyard and community gardens.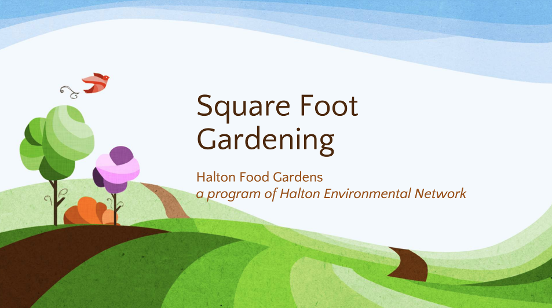 May 5, 2020

Ready for Rain: How to Harvest Rain & Create a Rain Garden:
This community call, features OakvilleGreen as they discuss how to create your own rain gardens and manage water on your property.
April 29, 2020

The Heart of Oakville Beats On:
This community conversation will showcase some of the tremendous efforts taken by Oakville organizations and individual residents. Join us over Zoom and let us show you examples of how your neighbours are protecting a sense of community and one another.
April 28, 2020

Gardening Tips and Tricks:
Join Master Gardener, Nancy Robertson for tips and tricks on how to get started and maintain your garden.
April 23, 2020

Native Plants in Your Garden:
Hosted by OakvilleGreen, join as they discuss ways to create a garden that provides way more than just a beautiful space for you and pollinators.
April 22, 2020

Let's talk about How we Make Every Day Earth Day:
Hosted by Halton Environmental Network and the Town of Oakville's Climate Action Team as they discuss their top 3 actions to make Earth Day every day.
April 16, 2020

How to cook from your Pantry and Fridge:
Hosted by Julia Hanna, check out the webinar below all about how to cook a meal using items from your pantry and fridge.
April 14, 2020

Starting your own Garden:
Hosted by Halton Food, check out in-ground, container and countertop garden options, so everyone has a place to grow their own food!
April 9, 2020

Working from Home with Young Children
(ages 6 and under):
Having trouble working from home? In this call, Oakville Parent-Child Centre offers tips and tricks on how to work from home with young children (ages 6 and under).
April 6, 2020
How to make Nut and Oat Milk:
Learn how to create your own milk-alternatives in your own home. Using oats and almonds, this webinar will help you create great and healthy options for the whole family!
April 2, 2020

Mindfulness and Meditation:
Mindfulness and Meditation techniques to help gain balance within your daily routine at home.
March 20, 2020

How to engage your community using technology:
Tech resources to help connect with community during physical distancing to remain socially connected.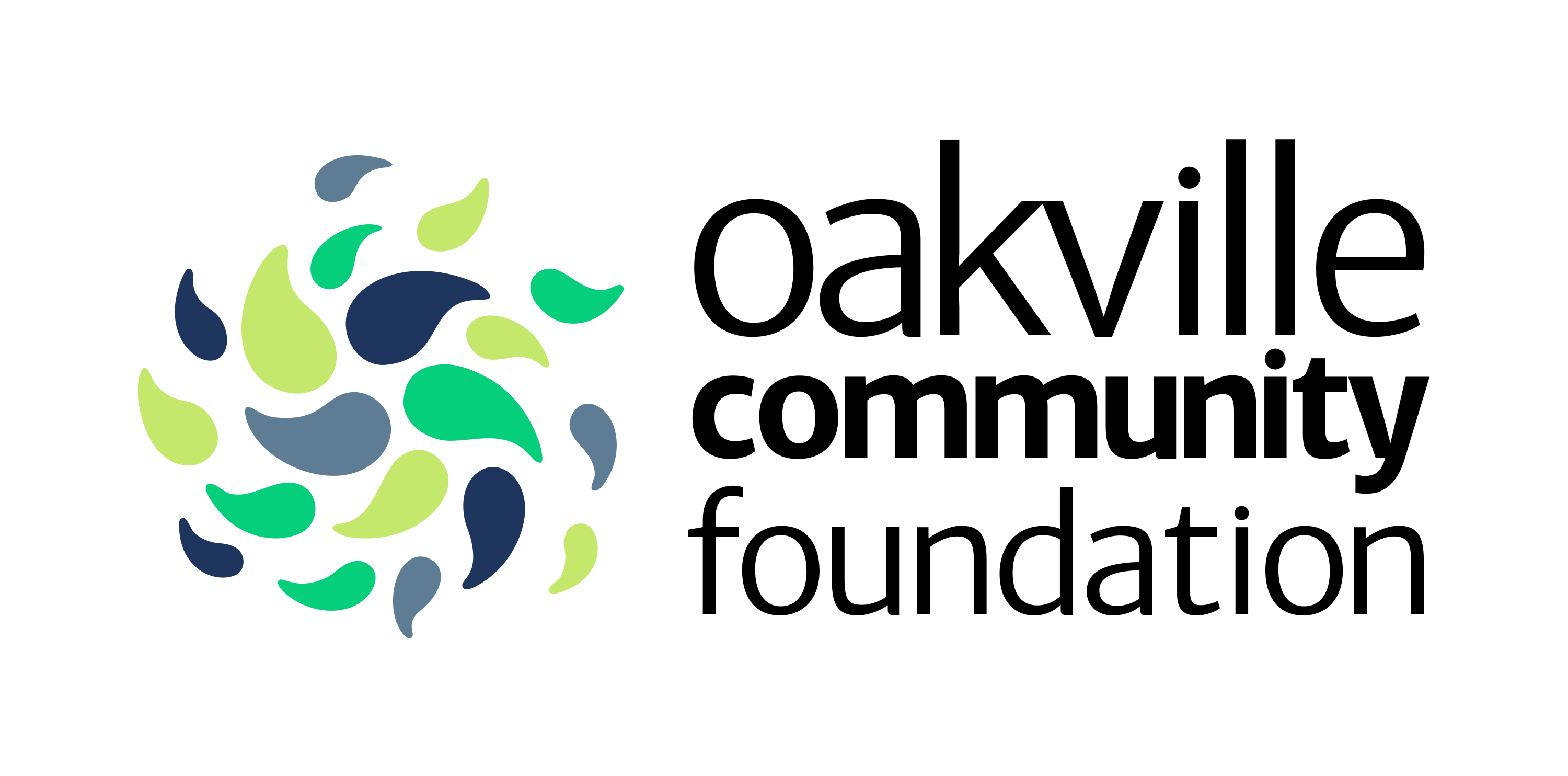 This project is generously funded by the Oakville Community Foundation