Building community resilience through climate preparedness
Town of Oakville's 2021 Climate Projections Report
In addition to the 2021 Climate Emergency Progress Report, the Town of Oakville, in collaboration with the City of Burlington and ICLEA Canada, had developed a Climate Projections Report. The purpose of this report was to illustrate how local climate has, and is projected to change from the baseline timeframe of 1976- 2005 until predominantly 2080 for 41 climate variables.
The report is a necessary first step towards the development of a climate adaptation plan and used to apply a climate lens to corporate and community master plans and programs to reduce vulnerability and increase resiliency.
The following infographics provide projected climate data, obtained from Climate Atlas of Canada, for the City of Burlington. For full access to the pdf version click here.
Climate Emergency Progress Reports: 2019-2021
Climate Emergency Progress Report:
2019-2020
A year after Oakville's climate emergency declaration, town council had released a Climate Emergency Progress Report (2019-2020)
The report was issued on June 26th, 2020 and outlines the significant progress the town and community have made towards mitigating and adapting to the effects of climate change.
Climate Emergency Progress Report:
2021
A second Climate Emergency Progress Report (2021) was developed and presented to Town Hall by the Town's Economic Development and Corporate Strategy Department in June 2021.
Oakville Declares Climate Emergency - 2019
On June 24th, 2019, the town council of Oakville passed a motion declaring a climate emergency for the municipality. To review the news release of the declaration, which was publicly issued on June 25th, 2019, click here. To review the 2019 council agenda click here.
Town of Oakville: Climate and Environmental Resources
Halton Climate Collective (HCC)
What is it?
A group of organizations focused on collectively transforming the community of Halton into a low-carbon, climate-resilient community.
Their Mission
The HCC will be the leaders of the local regional effort and lead the transformation towards a low-carbon, climate-resilient community.
Halton Climate Collective Infographic
Share the infographic with your family and friends to spread the word on what we can do to reduce our greenhouse gas emissions to create a more climate-resilient, low-carbon community.
Emergency Management Tools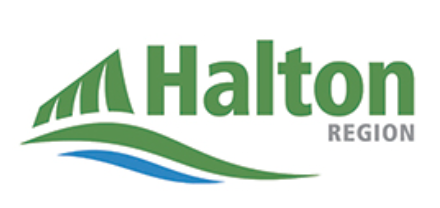 Check out Halton Region's emergency preparedness page to find a comprehensive list of emergency management strategies, programs, and plans. Keep your family safe.
Halton Region, in collaboration with their local municipalities, have developed an emergency preparedness guide that serves to help reduce the impacts of emergency situations. Whatever the emergency event may be, it's important to be prepared and and to respond in an appropriate manner.
The guide highlights three simple steps that should be followed during or in the anticipation of an emergency event:
1. Know the Risks;
2. Make a Plan; and
3. Get a kit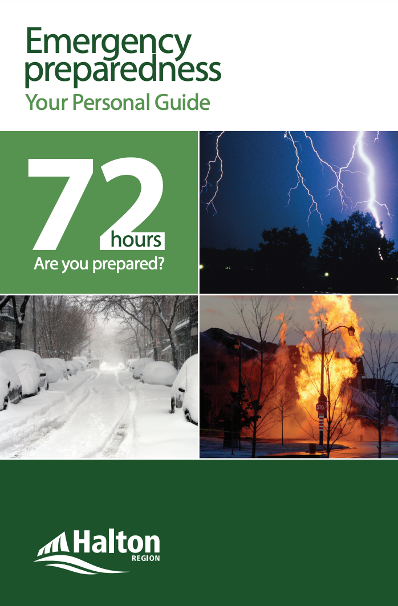 Canada in a Changing Climate:National Issues Report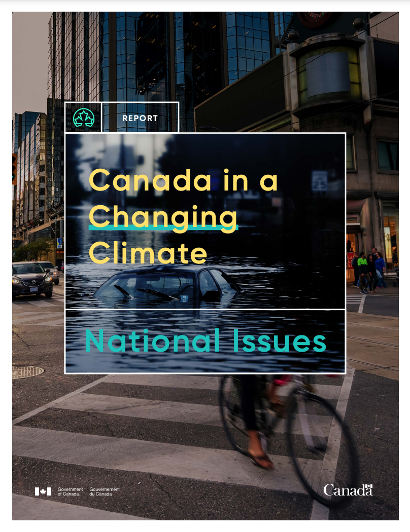 This report was led by Natural Resources Canada, and serves to provide Canadians a national perspective on the ways our communities, environment, and economy have and continue to be impacted by a changing climate.
Additionally, it provides decision makers with a comprehensive assessment of current knowledge and literature in the fields of climate change impacts and adaptation.
For more information please click here.
About the Atlas
The Climate Atlas of Canada is an interactive online platform that serves as an educational toolkit to help users get a better understanding of climate change in Canada. Climate Atlas combines climate science analytics and mapping techniques to assist in the communication of projected climate trends. It is designed to inspire local, regional, and national action and solutions.
Learn More about the Atlas
Interactive Map of Canada
This map provides the user the opportunity to explore the various aspects of climate change and its projected impacts from scales as broad as provinces right down to local communities.
Want to find out how climate change is projected to impact your community? Click here

To navigate to the interactive map, please click on the image below.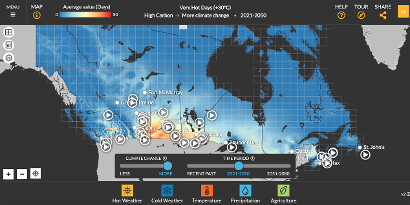 Climate Atlas Guidebook
For additional support, Climate Atlas has developed a guidebook containing a lot of usefulinformation about working with climate data.
The Intergovernmental Panel on Climate Change (IPCC)
The Intergovernmental Panel on Climate Change (IPCC) is an organization of governments that was established in 1988 by the World Meteorological Organization (WMO) and is the United Nations body for assessing the science related to climate change. The objective of the IPCC is to provide scientific information to governments at all levels, which can be used to develop climate policies.
1. Assessment Reports
A comprehensive summary of what is known about the drivers of climate change, its impacts and future risks, and how adaptation and mitigation can reduce those risks.
These reports are developed by the scientific community, through the assessment and synopsis of thousands of published papers annually.
2. Special Reports
These involve specific topics agreed upon by its member governments, as well as Methodology Reports that provide practical guidelines for the preparation of greenhouse gas inventories.
3. Synthesis Reports
These reports integrate the Assessment Report and any Special Reports prepared during an assessment cycle. The IPCC is currently on their sixth Assessment Cycle.
Year Published
1990
1995

2001
2007

2014
2022