Adopt a Shelf at Kerr Street Mission
Approximately 300 families access Kerr Street Mission's Food Market each week. Clients' food choices may be influenced by factors such as dietary preferences and restrictions; culture; access to cooking appliances;as well as their family size. In order for clients to receive a consistent supply of their staple food items each week, food donations must remain receptive to clients' needs.
This program is a highly intentional and transparent food procurement initiative. Rather than hosting a traditional food drive, donors commit to collecting one or two specific food items per month that clients most often seek out in Kerr Street Mission's Food Market.
Whether you choose to Adopt-a-Shelf for a week, two weeks, a month or longer, your commitment fosters a deeper connection between donors and clients - donors develop a more comprehensive understanding of how they can best assist clients, while clients remain aware of who is assisting them.
Why is OakvilleReady supporting Adopt-a-Shelf?
Community members who are impacted by food insecurity may require additional support during an extreme weather or emergency situation.
Adopt-a-Shelf is a food program that mobilizes neighbours and the greater community to take action today, while planning for the future.
The initiative ensures that every individual and family has an opportunity to establish a relationship with their respective hub of care, remain connected, and know exactly where to go to seek support.
Congregations and places of worship already exist as spaces that extend care and support to their communities, hence, are a natural fit to serve as hubs of care and resiliency during extreme weather and emergency events.
OakvilleReady established 8 neighbourhood resiliency hubs to respond in the event of an extreme weather event. Please familiarize yourself with the OakvilleReady Hubs and their locations: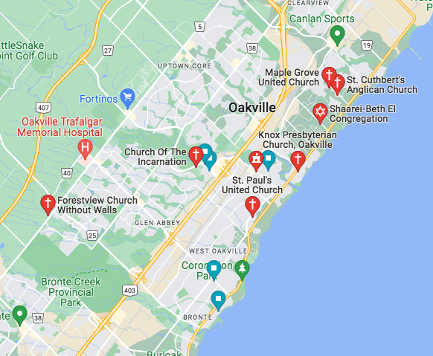 © Copyright OakvilleReady